RIS4CIVIS event explores cross-border R&I in the European Universities Initiative
22 April 2022
← Back to news
On 25 March 2022, 50 participants joined the RIS4CIVIS public conference Cross-border R&I in the European Universities Initiative at the Académie Royale in Brussels, with another 200 spectators following online. The conference gathered representatives of CIVIS, other university alliances, policymakers and academics to debate and share experiences of the reality of cross-border R&I.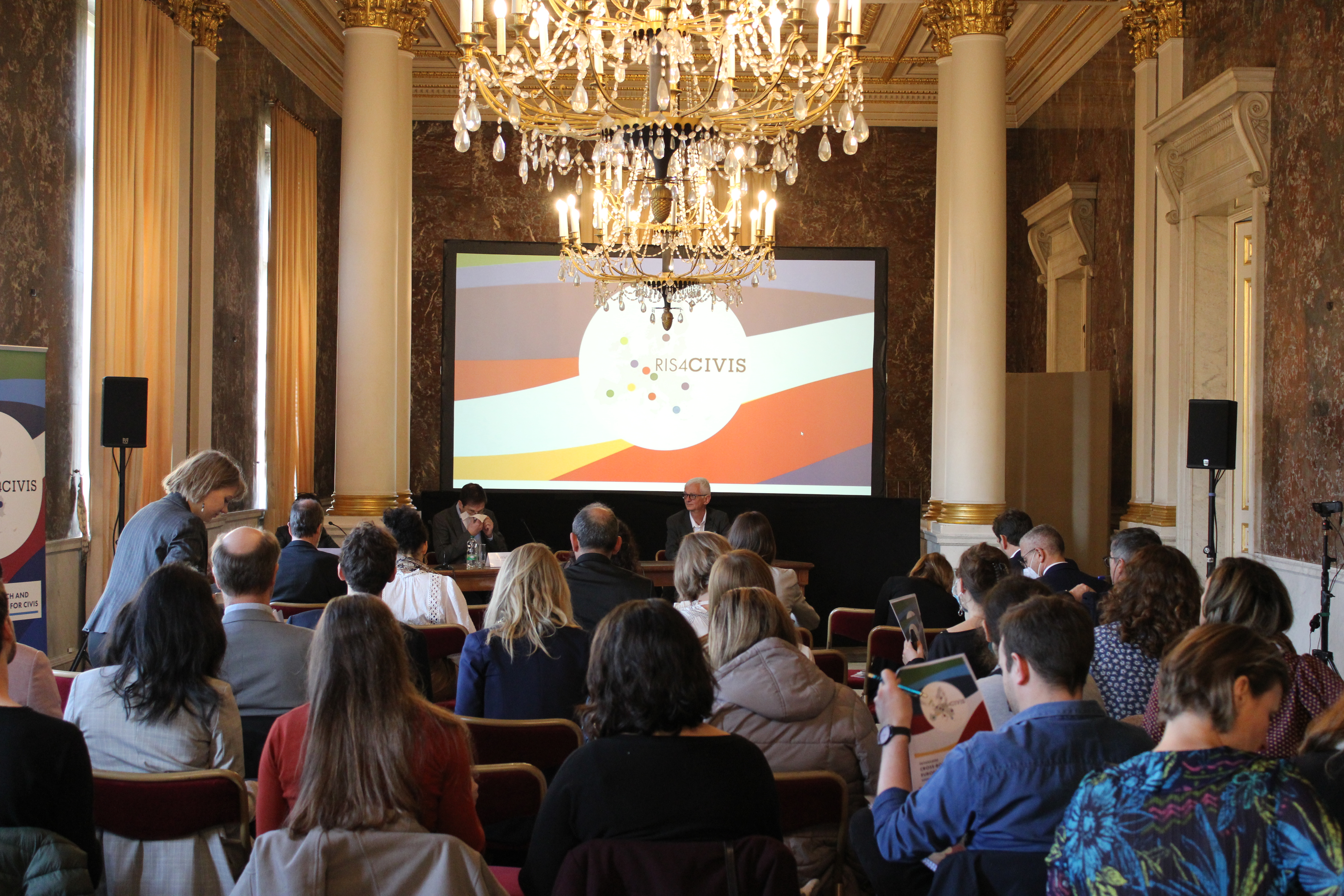 The event was introduced by Anne Weyembergh, Vice-Rector for External Relations and Cooperation at Université libre de Bruxelles, followed by a speech by Patrick Brenier, Advisor for the European Research Area (ERA) and Open Science at the European Commission. Brenier discussed the research missions of European Universities in the context of the ERA's challenge-based perspectives.
Philippe Delaporte, Vice-Rector for Research at Aix-Marseille Université, closed the introductory session by providing a presentation of RIS4CIVIS, our project developing a research and innovation strategy for CIVIS. He stressed that supporting researchers in their needs and new collaborations in the CIVIS landscape is the key objective of RIS4CIVIS. Now entering its third phase, RIS4CIVIS will create and experiment with new joint initiatives at the level of the CIVIS Alliance to support research and researchers. These include opening and promoting research infrastructures, working towards the definition of a CIVIS innovation strategy, creating a new career development programme targeting early-career researchers, and creating new tools to encourage Open Science and Citizen Science practices among CIVIS research communities.
The ending point of this introductory session? "To never forget to keep students at the heart of these interactions".
Watch the replay
See below the replay of the introductory session.
Research & Innovation roundtables
The second part of the conference consisted of two roundtables: European University Alliances as a new nexus of innovation and University Alliances as a springboard to integrated mobility. The debates were chaired by Stephane Berghmans, Director for Research and innovation at the European University Association, and Marius Gilbert, Vice-Rector for Research at Université libre de Bruxelles.
European University Alliances as a new nexus of innovation
Berghmans stressed that the innovation ecosystems developed in the framework of alliances will eventually impact all universities across Europe. The different panellists, representing the European Commission and various universities, shared their perspectives on what European university alliances are currently aiming to achieve when it comes to innovation.
Key takeaways include:
It is vital to develop concrete tools to better connect the European Research Area and European Education Area.
It's important for Alliances to regularly exchange about how to reinforce links between researchers and society.
Finding the best compromise between collaboration and competition is part of the challenge.
Alliances must develop the skills of the administrative staff involved in implementing the European Universities Initiative if they want to guarantee excellence in their cooperation processed.
The panel members also exchanged about how the tools they are currently developing will impact the future of universities in general. The panel discussion closed with a discussion on cooperation between Alliances, public organisations and companies for innovation in sustainability as well as digital innovation.
University Alliances as a springboard to integrated mobility
Marius Gilbert launched the debate by stating that students views about what they consider important are shifting, with major cosequences for the future of mobility in higher education for both students and researchers.
Key issues in the debate that followed included:
Senior researchers sometimes have a hard time finding their way in Alliance programmes - how can we get their interest?
Can Open Science and digitalisation permeability act as facilitators of mobility?
Can can Alliances address the gender dimension in researcher mobility and develop a common vision on the practices to adopt?
Among other things, it was pointed out that:
With the pandemic our practices have significantly changed, but virtual mobility definitively has its own values. Once the physical relationship is established, virtual mobility can be more easily settled.
It remains of importance for researchers to get together to make university initiatives sustainable.
Cultural change in Open Science practices is happening.
One challenge is to better connect talented researchers to their ecosystems: researchers must open their mindset and develop their entrepreneurial skills.
The gender equality plan issued by the European Commision is useful but change is slow.
Reaching a good balance must not only consider the gender dimension but also benefit disadvantage people and look towards a better inclusion of diversity in general.
The event in pictures