Makerere University
Makerere, known as "Mak", is the premier and oldest public university in eastern and central Africa, consistently ranked among the top five universities in Africa and among the top 500-600 globally (Times Higher Education 2020). It also ranked 2nd in research training and output on the continent. Established in January 1922 as a humble technical school with 14 day students who began studying Carpentry, Building and Mechanics, Makerere University has grown to become one of the oldest and most prestigious universities in Africa. Makerere soon began offering various other courses in Medical Care, Agriculture, Veterinary Sciences and Teacher Training. It expanded over the years to become a Centre for Higher Education in East Africa in 1935. In 1937, the College started developing into an institution of higher education, offering post-school certificate courses. In 1949, it became a University College affiliated with the University College of London and offering courses leading to the general degrees of its then mother institution. Later, with the establishment of the University of East Africa on 29 June 1963, the special relationship with the University of London ended. The degrees of the University of East Africa were instituted at Makerere (with campuses at the Universities of Nairobi and Dar-es-salaam).
On 1 July 1970, Makerere became an independent national university, as Nairobi and Dar-es-salaam became independent universities too, offering undergraduate and graduate courses with their own awards. The university currently offers study programmes to a student body of about 31 000 undergraduates and 4000 postgraduates (both Ugandan and international). We run 136 undergraduate programmes and 179 graduate programmes, including postgraduate diplomas. The university has progressed its enrolment in Science, Technology, Engineering and Mathematics (STEM) to 43% of its enrolment. Whereas the female population in enrolment has reached 45%, the university has modified its gender strategy to pick more female students in the STEM category. To date, we have graduated over 300 000 students, of whom more than 1000 at PhD level.
Makerere plays a central role in research at national, regional, and international levels, and has several dedicated research institutions, centres and initiatives. Makerere University has contributed about 3% of research in Africa and over 70% of research output in Uganda. The research productivity of the university has tremendously improved with about 1500 peer-reviewed articles published in the year 2020 alone. The university's capacity for research has grown, with 70% of its academic staff having PhDs. The impact of our research punctuates all parts of the public and private sectors with notable achievements in infectious diseases, maternal health, crop improvement, climate change, energy conservation, transport technology, ICTs, Food Value Chains and, most recently, Nanotechnology. Since the year 2016, the university is hosting two of the 24 African Centers of Excellences funded by the World Bank (ACE IIs) and other Centers of Excellence (CoEs) sponsored by leading continental agencies.
Many innovations have sprung out of the research interventions to spur industrial development. These include electric vehicles, improved seed varieties, irrigation innovations, medical equipment, vaccines, medical interventions (like the prevention of mother to child transmission of HIV/AIDs, epidemiological tents, ventilators, nonintrusive malaria tests), mathematical models for epidemiological predictions, theories and models for economic interventions. Currently, the university is pretesting over 100 innovations that have the potential for commercialisation to spur economic transformation.
Makerere has over 500 collaborations with reputable international agencies spread across the world, and is ranked among the top 100 universities in the world in terms of collaborative partnerships.
As Makerere marks 100 years of existence, its goal is to leverage the capacity developed over time and the positive experiences towards transforming society. Similarly, as its vision is "to be a thought leader of knowledge generation for societal transformation and development", the university's strategic direction is to be a research-led university. In celebrating a century of dedicated service and excellence, Makerere remains aware of its history as one of the oldest African universities created by colonialism, and which has since independence struggled to reform in order to be a truly African university, responsive to Africa's aspirations of freedom, peace, integrity, and prosperity.
We Build for the Future.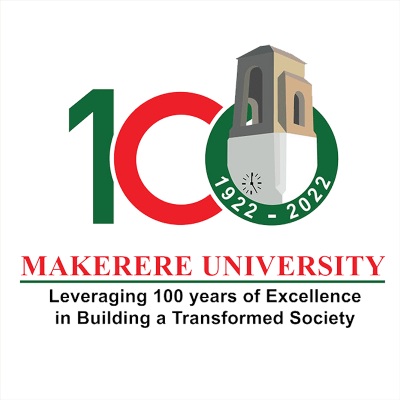 Country: Uganda
City: Kampala
University's name: Makerere University - (Abbreviated "Mak")
Date of creation: January 1922
Website: www.mak.ac.ug
Useful links
Few figures
Number of students
Average total enrolment of 35 000 (2022)
Number of staff
2966 (on university payroll as of January 2022)
Number and names of faculties and/or schools
In 2011, Makerere transformed from a faculty-based to a collegiate university comprising of 10 constituent colleges headed by Principals:
College of Agricultural and Environmental Sciences (CAES)
College of Business and Management Sciences (CoBAMS)
College of Computing and Information Sciences (CoCIS)
College of Education and External Studies (CEES)
College of Engineering, Design, Art and Technology (CEDAT)
College of Health Sciences (CHS)
College of Humanities and Social Sciences (CHUSS)
College of Natural Sciences (CoNAS)
College of Veterinary Medicine, Animal Resources and Bio-Security (CoVAB)
School of Law (with College status)