Sacred sounds, sacred spaces
Explore the interplay between music, sound and space in relation to the experience of sacredness in historical and synchronic perspective
← Back to courses
CIVIS focus area

Society, culture, heritage

Field of studies

Art, Design and Media
Social Science and humanities

Course dates

14, 21, 28 June & 11-15 July 2022
This CIVIS summer school entitled "Sacred Sounds, Sacred Spaces" is a highly innovative educational module that explores the interplay between music, sound and space in relation to the experience of sacredness in historical and synchronic perspectives. It is organized jointly by the National and Kapodistrian University of Athens, the Universidad Autónoma de Madrid, the University of Tübingen and the University of Glasgow and will take place at the National and Kapodistrian University of Athens.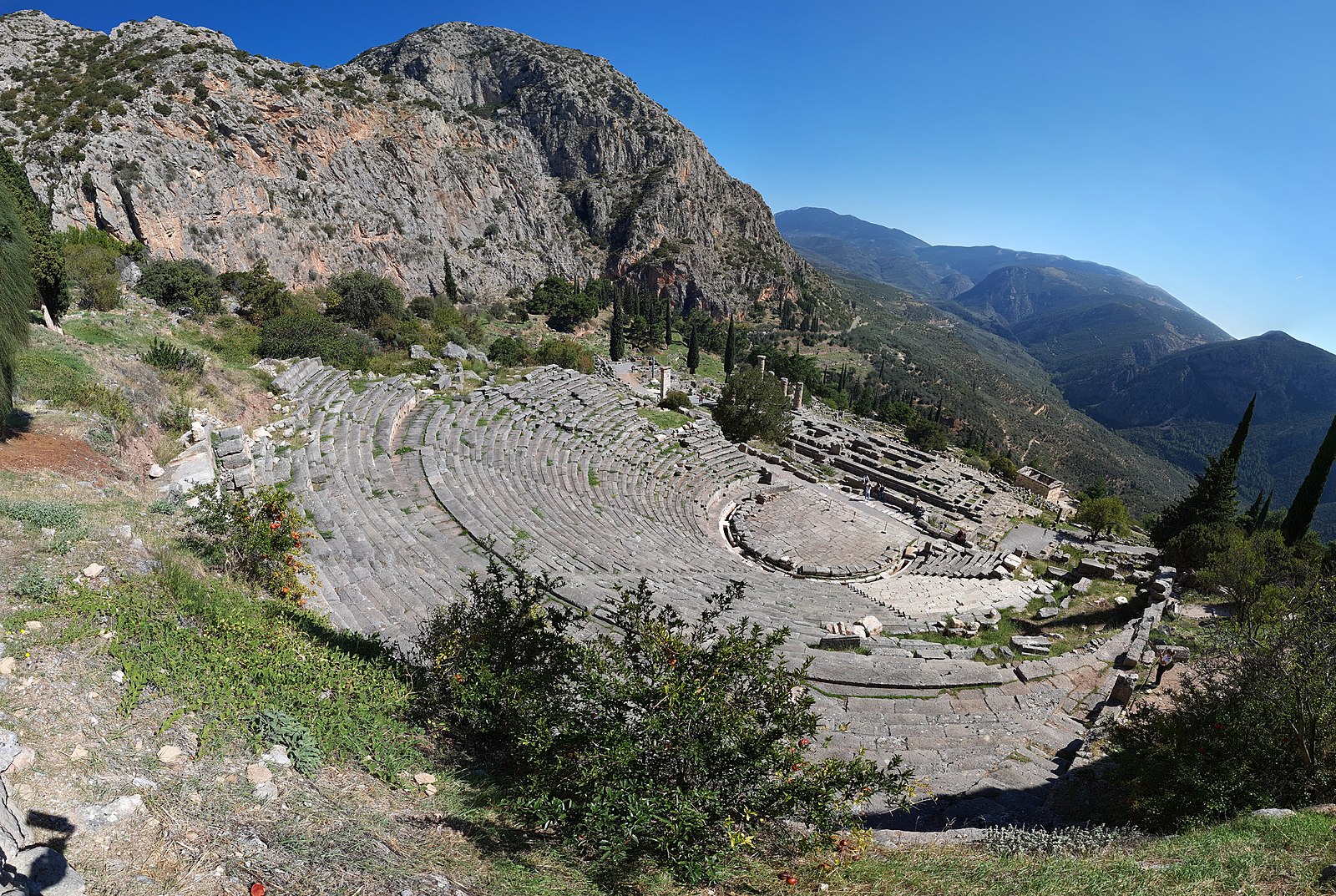 Photo of the ancient theatre, Delphi
This module draws its core methods and analytical concepts from the fields of sound studies and soundscape and applies them in historical research on auditory perception, and in the creative reconstruction of auditory perception in the present. The module covers a broad historical period from Antiquity to the present and focuses selectively on sacred liturgical spaces and the music and sound practices they hosted in the East Mediterranean, Central and North Europe.
Main topics addressed
Ancient/Medieval music and sounding spaces
Acoustic ecology and ecological aesthetics: human and natural soundscapes as compositional context
Living the acousmatic: immersive sound and virtual acoustics in performance
Media archaeomusicological approaches to soundscape
Improvisation, body, voice and space
Theories of listening and immersive media reception
Learning outcomes
To explore the roots of European music history by connecting ancient music excerpts to medieval music in space
To understand the acoustic phenomena in performance spaces, and learn to appreciate the acoustics in sacred places
To conduct acoustic data collection (recordings and acoustic measurements) of the natural acoustics of places of significance
To perform ancient and medieval music excerpts in its natural landscape
To explore the roots of European music history by connecting ancient music excerpts to medieval music
| | |
| --- | --- |
| Dates: 14, 21, 28 June & 11-15 July 2022 | CIVIS scholarships: 20 |
| Format: Blended | ECTS: 2.5* |
| Location: Athens & Delphi, Greece | Language: English (B2) |
| Contact point: georgaki@music.uoa.gr | Individual workload: 2 hours/day |
* The recognition of ECTS depends on your home university.
Schedule
This CIVIS course is organised into 3 online webinars that will take place in June 2022, and a 5-day on-site workshop that will be held in Athens, in July 2022, from Monday to Saturday (09:00-13:00 & 16:00-21:00 CET).
Online webinar series
14 June 2022

Sonic experience and augmented reality in ancient spaces

University of Glasgow/National and Kapodistrian University of Athens

21 June 2022

Ancient Greek Music and sounding spaces

Universidad Autónoma de Madrid/National and Kapodistrian University of Athens

28 June 2022

Medieval Music and sounding spaces.

University of Tübingen/National and Kapodistrian University of Athens
Workshop in situ
11 July 2022

Workshop: Sound Archeomusicology and Archeoacoustics

National and Kapodistrian University of Athens/Universidad Autónoma de Madrid

12 July 2022

Workshop: Medieval Music and sounding sacred spaces

University of Tübingen/National and Kapodistrian University of Athens

13 July 2022
Acoustic data collection and performance in Delphi (in situ)
14 July 2022

Workshop: Sonic experience and immersive media reception in sacred spaces

University of Glasgow/National and Kapodistrian University of Athens

15 July 2022

Workshop: Soundscape composition and acoustic ecology

Universidad Autónoma de Madrid/National and Kapodistrian University of Athens
Requirements
This CIVIS course is open to Master's & PhD students at one of CIVIS member universities interested in the following field of studies:
Immersive Audio
Soundscape design
Media Musicology
Music Technology
Virtual Acoustics
A B2 level of English is required.
Application process
Applications are now closed.
If you have any further questions, please contact Anastasia Georgaki.
Assessment
The students will be required to prepare several activities in advance to be presented and discussed during the course. Each student will present and defend with all the participants their ongoing thesis research. Moreover, the students will need to complete multiple questionnaires related to the contents of the course.
General Eligibility Criteria for CIVIS Courses
Applicants need to be enrolled at their home university in order to be eligible for selection and participation. If uncertain about your status at your home university (part-time or exchange students etc) please check with your home university's website or International Office.
Applicants who will be receiving other Erasmus funds for the duration of the course are not entitled to funding. Participation in the course may still be possible under "zero-grant" status, but applicants should contact their home university in order to confirm this.
A list of links and contacts for each university can be found in this Q&A.
GDPR Consent
The CIVIS alliance and its member universities will treat the information you provide with respect. Please refer to our privacy policy for more information on our privacy practices. By applying to this course you agree that we may process your information in accordance with these terms.
National and Kapodistrian University of Athens
Professor Anastasia Georgaki, Music Technology and Acoustics
Anastasia Georgaki is Associate Professor in Music Technology at the Music Department of the University of Athens, head of the Department of Music Studies and head of the Laboratory of Music Acoustics and Technology of the same Department. She studied Physics (University of Athens, 1986) and Music (accordion, piano, harmony, counterpoint/Hellenic Conservatory of Athens, 1981-1990) and continued her studies at IRCAM (Paris, 1990-1995) in computer music and music technology (DEA/1991 and PhD/1995 in Music and Musicology of the XXth century, IRCAM/EHESS). During the period 1995-2002 she has been teaching as a lecturer in Music Acoustics and music technology at the Music Department of the Ionian University at Corfu. Since 2002, she is teaching matters in Music Technology at the Music Department of the University of Athens. Since 2008 she is teaching in three different Master's programs at the University of Athens and the School of the Fine Arts (music and new media, sound ways of knowledge, digital visual music). She has participated in many international computer music and musicological conferences in Europe, Canada, Latin America and has published around 65 articles concerning the synthesis of the singing voice, the interactive music systems, Greek electroacoustic music composers (Xenakis, Adamis, Logothetis), physical modelling of instruments, music technology in education and acoustic ecology matters. She has chaired and co-chaired seven symposia and conferences and she is a member of numerous committees in Greece and abroad (member of the SMC steering Committee and ICMA). She has collaborated also with the Greek research institute ILSP in music information retrieval European projects (Wedelmusic), with IEMA, with the Voice lab of the Department, of Informatics and telecommunication, with the Onassis foundation cultural canter, IRCAM, University of Paris VIII, etc. Her research projects focus on the analysis and acoustics/psychoacoustics of the Greek singing voice, controlling synthetic voices through a MIDI-accordion, the development of tools for the application of new technologies in music creation and education, musicological aspects on the impact of technology in contemporary music creation, methodological issues of music technology in interdisciplinary education, acoustic ecology and soundscapes. She is also a professional accordion player and active musician.
Professor Achilleas Chaldaiakis, Byzantine Musicology
Achilleas Chaldaiakis is a Professor of Byzantine Musicology and Psaltic Art at the Department of Music Studies of the School of Philosophy of the NKUA. He teaches on both undergraduate and postgraduate levels at the NKUA and at other Universities and Institutes. His personal approach to this particular learning object is determined by an innovation: the study, analysis and comprehension of the Τheory, Ηistory and Aesthetics of Music through its practical expression. He firmly believes that the combination of Theory and Practice is instrumental for a substantial knowledge of the phenomenon of musical creation, and up to the present day, he has supported this belief with his scientific, educational and artistic work. He also delivers lectures and participates in seminars and workshops, whereas his parallel artistic activity illustrates the practical application of any theoretical view. This multifaceted activity in the field of Byzantine Musicology and Psaltic Art has already been given approval and a favourable reception both in Greece and abroad, as it is shown by the invitations addressed to him and the broad interest in his work. His whole activity as an internationally recognized musician in his twofold quality, both as a scientific researcher and University Professor and as an artist, interpreter, and director of musical ensembles, explores new paths toward a global, multifaceted and innovative, approach to Byzantine Musicology and Psaltic Art.
Ass. Professor Stylianos Psaroudakis, Archeaomusicology
Stylianos Psaroudakis is Assistant Professor in 'Ancient Hellenic Music' at the Department of Music Studies of the National & Kapodistrian University of Athens, Greece. He is the holder of the following degrees: Bachelor of Science-Honours in 'Naval Architecture' from University College-London (1978); Postgraduate Diploma in 'Mechanical Engineering' from the University of Surrey (1979); a 'Piano Recital Diploma' from the Athens Conservatoire (1986); Master of Music in 'Ethnomusicology' from Goldsmiths' College-London (1988); Doctorate in 'Classics-Music' from the University of Reading (1995).
His area of research is the music of the ancient Hellēnes: pre-and proto-Hellenic Aegean; theories of melody, of rhythm, and of ethos; musical instruments; musical notation and the surviving scores. His publications are available at scholar.uoa.gr/spsaroud (under publications) and at Google Scholar.
Ass. Professor, Areti Andreopoulou, Music Technology and Virtual Acoustics
Areti Andreopoulou is an Assistant Professor in Music Technology, at the Department of Music Studies, National and Kapodistrian University of Athens (NKUA), Greece, where she teaches undergraduate and graduate courses pertinent to the scientific field of Music Technology. She holds a Bachelor's degree in Music Studies from the Department of Studies, NKUA (2005) and a Master's (2008) and a PhD degree (2014) in Music Technology from New York University. She conducts research as a member of the Laboratory of Music Acoustics and Technology (LabMAT) NKUA. Her fields of interest include but are not limited to 3D and spatial audio, the design and evaluation of immersive auditory environments, auditory displays, multimodal interactions, data sonification, acoustics, and audio signal processing.
Universidad Autónoma de Madrid
Professor Jose Luis Carles, Soundscape research in space
Jose Luis Carles is a Professor and head of external internships at the Music Department of the Autonomous University of Madrid, composer, ecologist, and doctor in Biological Sciences, DEA by the University of Grenoble. He studied Music Computer Studies at the Universitá degli studi di Padova (Italy), musical and audiovisual commissions from Spanish and foreign centres (LIEM- CDMC, Alicante Festival, Autumn Festival, GMEB de Bourges (France), City of Culture of Galicia, Berlin Sound Art Festival, ResonArt (Stockholm) etc. He is a coordinator of the Ibero-American Meetings on Sound Landscapes. He is a member of various commissions and working groups at the UAM, Director of the program La casa del sonido Radio Clásica- RNE (2002 -currently), Principal Investigator of the R&D Project "Space-Time Implications in Musical Creation" MINISTRY OF SCIENCE AND INNOVATION NATIONAL R&D&I PLAN 2011-2015 and Associate Coordinator of the "Metabody" project Culture Program EUROPEAN UNION. He also a reviewer in various specialized magazines (Landscape and urban planning, Elsevier; ArteConCiencia, Ciudad y Territorio and a professor of the Master in Artistic, Literary and Cultural Languages ​​(Department of Music. Faculty of Philosophy and Letters. UAM). He is a professor of the doctorate in History and Sciences of Music of the Music Section at the University of Guanajuato (Mexico).
Professor Luis Calero, Lecturer, Ancient Greek music
Luis Calero is a Professor at the Department of Classical Philology (Greek area), of the Universidad Autónoma de Madrid. He holds a PhD degree from the Universidades Autónoma y Complutense de Madrid in "Studies of the Ancient World" (doctoral thesis "The voice and singing in ancient Greece"), and a degree in Classical Philology (Universidad Autónoma de Madrid). His fields of interest include music and performing arts in Ancient Greece, as well as the musical and literary transmission between Asia and Archaic Greece. He is a professional singer, teacher of vocal technique and accompanying pianist for singers.
University of Tübingen
Professor Stefan Morent, Digital and Medieval Musicology
Stefan Morent is a Professor of Eberhard Karls Universität Tübingen, where he holds the chair of Digital Musicology and Music before 1600 and head of the Department of Musicology. He studied musicology and computer sciences at Tuebingen University as well as recorder and performance practice with Kees Boeke and medieval music with Andrea von Ramm and Sterling Jones. He received his Master of Arts with honours in 1992 and his Dr. phil. in 1995 with "Studies concerning the influence of instrumental music on vocal music of the Middle Ages". In 2004 he completed his Habilitationsschrift on "The reception of Medieval music by composers in 19th century France". He has been teaching medieval performance practice and musicology at the Universities of Trossingen, Vienna, Hamburg, Cologne, Heidelberg, Saarbrücken, Mannheim, Detmold and at the University of Berkeley. With his ensemble "Ordo Virtutum" for Medieval Music he has been invited to give concerts, courses and lectures in medieval music at festivals and international symposiums in Europe, the USA and Australia. He is also artistic director of the festival of Medieval Music "Via Mediaeval" within the Kultursommer Rheinland-Pfalz and director of the "Schola Cantorum" at Tübingen University, a student's ensemble for Gregorian chant. He is the speaker of the research project "Sacred Sound - Manifestations of the sacred between theory and practice" at Tübingen University and leads the subproject "Sacred Sound - Sacred Space" with virtual acoustic reconstructions of lost medieval sacred spaces (in collaboration with Universities of Aachen and Karlsruhe).
University of Glasgow
Professor Nick Fells, Sonic practice and composition
Nick Fells is a Professor of Sonic Practice at the University of Glasgow, composer, performer and sound artist. His research centres on creative and experimental approaches to sound, particularly the use of computer-mediated sound in performance and in electronic and audiovisual art-works. His work combines field and source recording, improvisation and other forms of live performance, computer-based sound processing and sound spatialisation. His audio-visual work uses live computer-based animation and visual processing, extending sometimes to dance and aspects of theatre. A central question in his work is how social relations in close collaborative contexts such as ensemble playing are transformed through technological practice. He is a founder member of the composers' collective nerve8 and of the Glasgow Improvisers Orchestra, and plays with a number of other improvising groups. As a performer, he plays shakuhachi and computer-based instruments. His work has been performed in the US, Europe and around the UK, and commissions have included those from the Tramway, Coull Quartet, and Scottish Opera. He was recipient of a Muenchen Kulturreferat Stipendium for an artist residency at Villa Waldberta, Germany, and his work has featured at festivals such as Sónar in Barcelona, Surrounded and Lautwechsel in Munich, Instal and Behaviour in Glasgow, on BBC Radio 3's Late Junction and Hear and Now, at the ISSUE Project Room in New York, on Danish TV and on German national radio. For more information and for recordings and videos, see click here.
Dr Iain Findlay-Walsh, Lecturer, Sound art, Auditory immersion
Iain Findlay-Walsh is a Lecturer at the University of Glasgow, an experimental music producer, composer and researcher whose work combines field recording and studio production with autoethnographic methods to research personal listening. His practice research explores aural and spatial perception, music reception, virtuality and selfhood. Outputs include sound installations, multichannel audio works, text scores, and spatial audio pieces for stereo headphones. Scholarly research engages with auditory reception and perception, first-person field recording, spatiality and virtuality in record production, sonic and textual autoethnography, and sound-based research methodologies.
Documents