Youth civic engagement: 16 CIVIS students at the European Y CIVIC seminar
15 Juni 2022
← Back to news
On 10 and 11 June 2022, the European Y CIVIC seminar took place in Marseille and addressed the issue of civic engagement among young people.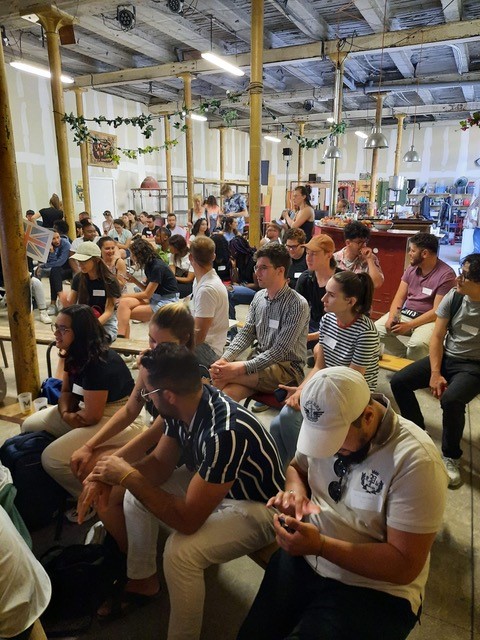 With the participation of 16 CIVIS Students in this joyful seminar delivered by Citizens Campus, a loval CIVIS partner, the Alliance explores how we can concretely experiment with local forms of citizen engagement with European resonance to allow the co-construction of responses to European challenges.
"Pandemic, the war in Ukraine, climate change, antidemocratic forces and speeches: Europe is in trouble and its future is at stake. At the same time many people, especially youngsters, are deeply committed at local as well as at global levels to develop actions for the common good."
This event brought together around 100 young people from 10 different European countries. Participants were not university students and they came with different cultural, socio-economic and academic backgrounds. Nevertheless, they were determined to exchange, experiment and act for the common good!
CIVIS student participation
CIVIS students were among the participants, leaving the lecture hall behind to get out of their comfort zone. The young European participants joined various activities planned during these two days.
Collective volunteering with local associations working on topics such as:
Food waste
Youth mobility
Inclusion in sport
Digital divide
Homelessness
Intergenerational activity
Mobility
Music
Cooking
Training on Collective Intelligence methods to respond to a problem with a European dimension:
How to make European mobility more accessible to all young people?
Citizen's commitment vs political disaffiliation
How to mobilize youth to vote during the 2024 European elections?
If you should organize tomorrow a year of activities celebrating Marseille, the European capital of the sea, which activities would you choose?
Student testimony
A student from CIVIS member University of Bucharest shares her story.
Q: How did you experience the event?
A: Firstly, I think that the actual planning of the activities was very well done. I highly appreciate how the activities were organized with participants from each country and then actually engaging with local organizations and experiencing how they work. It was the best way of practical learning. And then the attention to detail from the organizers, from the registration to the people that moderated the activities, to even the food- a lot of work was visible.
Q: What did you learn?
A: I found out about new ways of civic engagement. On some of them I had previously seen articles in the media but they did not seem accessible to me. After having this experience, where we got to share best practices and talk about these matters (including in a European context) I definitely feel that there are more opportunities to get involved and to make a contribution.
Q: Why was it good to do this event within the framework of CIVIS?
A: I think that specifically for me, without UNIBUC being part of CIVIS I would not have the opportunity to participate. However, It seemed that for us, the administrative processes were a bit more complicated but this was toned down by the fact that we socialized faster because we had CIVIS in common.
What students have learned
Discovering civic engagement opportunities with local actors
Through this type of involvement, CIVIS aimed to offer Alliance students the possibility to boost their critical skills through active participation in seminars, roundtables, as well as visits to local actors and associations.
Discovering how volunteering can be a route to empowerment, soft-skills development and personal achievement
CIVIS, in line with the aims of the overall European University Initiative, is keen to contribute to the transformation of Higher Education sector by allowing students to discover volunteering activities, recognising extra-curricular activities as a way to gain essential soft skills.
Sharing practices, ideas, fears, and hopes between young Europeans
The activities carried out may lead to debates on the European Union, shaping European identities and resulting in the formulation of recommendations, conclusions and/or suggestions on the future of Europe.