On the occasion of World Press Freedom Day, the Université libre de Bruxelles, one of our member universities, is joining forces with the Vrije Universiteit Brussel, Erasmushogeschool Brussel, BOZAR, and the Evens Foundation to celebrate the Difference Day. Since its launch in 2015, the Difference Day has gone from strength to strength and it is now supported by partners such as the European Commission, UNESCO, European Endowment for Democracy, EPC MPA, EBU, and others. In 2022 CIVIS is, for the first time, an official supporter of the initiative.
World Press Freedom Day
In 1993, the United Nations General Assembly declared 3 May as World Press Freedom Day to raise awareness about the importance of freedom of the press and remind governments of their duty to respect and uphold the right to freedom of expression enshrined under Article 19 of the 1948 Universal Declaration of Human Rights.
Freedom of Expression implies respect for the opinion of others. It recognises the fact that there is a difference between us and between our opinions. To celebrate freedom of expression is to celebrate diversity. Freedom of the press is an essential aspect of freedom of expression. Without a free and independent communication environment, it is impossible to build and sustain a democratic society.
Difference Day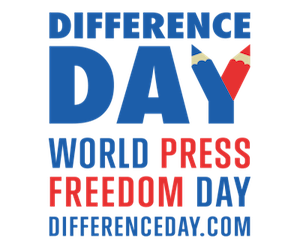 The celebration consists of honouring people and organisations that make a difference in protecting and promoting these values, by awarding a Difference Day Honorary Title to a journalist, writer, artist, cultural thinker or any other person, association or institution that has made a vital contribution to protect and promote freedom of thinking and expression in an ever-changing, democratic society. Making a difference as regards these basic values is what the title is all about. The Difference Day Honorary Title is jointly awarded by the Brussels University Alliance VUB and ULB.
In the last 4 years, the Université libre de Bruxelles and Vrije Universiteit Brussel have also awarded a joint Doctor Honoris Causa to 2 laureates who are respected for their contribution and fight for freedom of speech.
A series of events open to the public
During the week of 3 May the organisation offers a free program to the larger public, students and pupils from schools to follow debates, film, theatre, media literacy and interactive sessions. On the eve of the World Press Freedom Day, a European Gala dinner is held to celebrate laureates and let them tell their stories, with many prominent people and influencers for freedom of speech including ministers, embassies, media professionals and NGOs present.
The event takes place in the centrally located and beautiful setting of BOZAR (Brussels, Belgium) in the presence of high representatives of the European institutions and of the political authorities of Belgium, the Communities, and representatives of journalistic and media organisations, NGOs, universities and students.