CIVIS is looking for a Communications Assistant to strengthen its Communications team, based in Brussels, Belgium.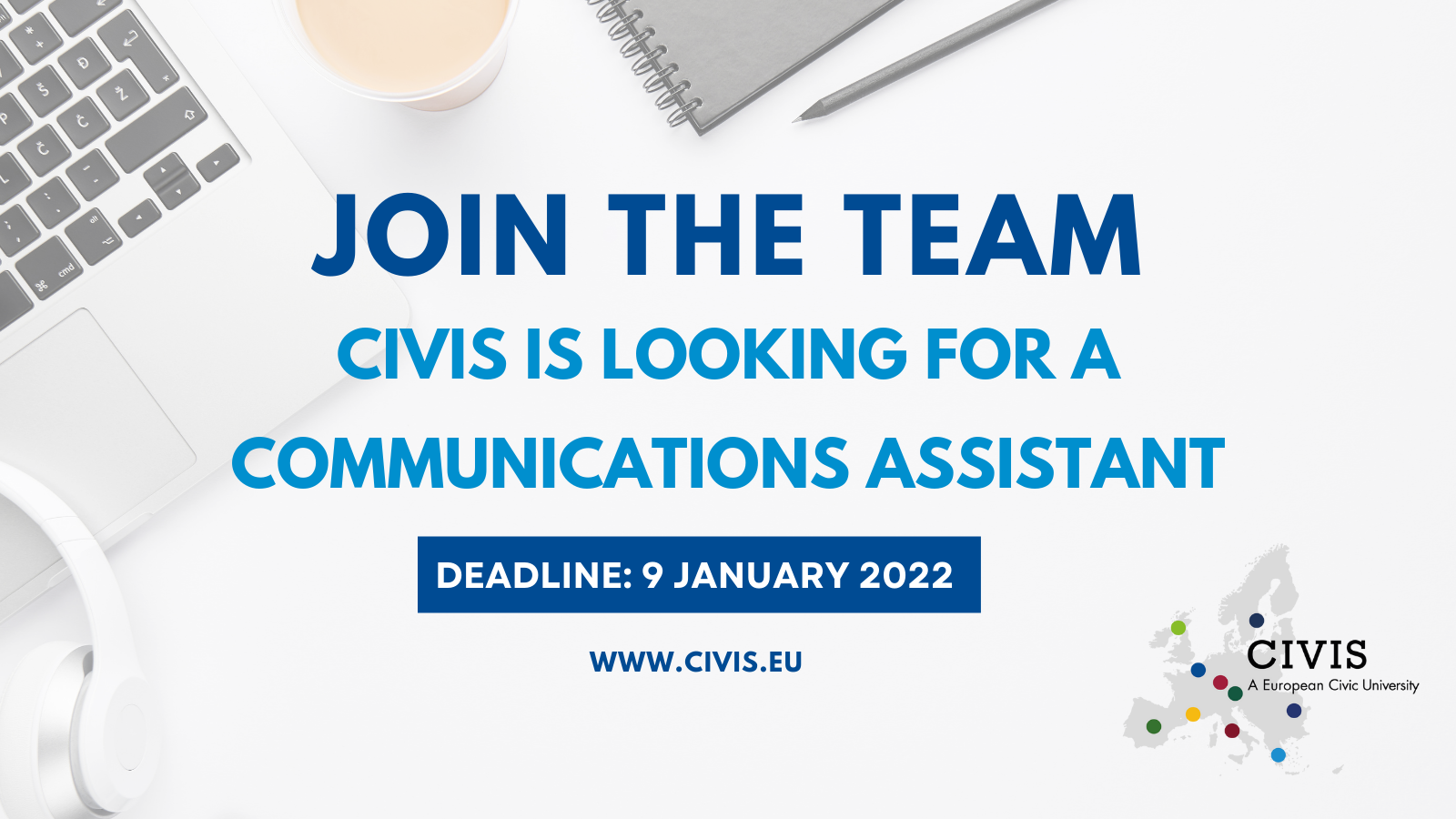 Context
Inspired by the EU's European Universities Initiative and supported by the Erasmus+ programme, eight European Universities joined forces in 2019 to create the University Alliance CIVIS (two additional members have since joined).
CIVIS aims to create a truly unique European interuniversity campus where students, academics, researchers, and staff can move and collaborate as freely as within their institution of origin. We are developing a deep level of European integration, involving joint learning pathways, innovative educational programmes and the ambition for complementary research facilities.
Within the CIVIS Alliance, the Université libre de Bruxelles (ULB) assumes responsibility for the "Sustainability and Dissemination" component and hosts the CIVIS Communications Team. In this context, ULB is looking for a Communications Assistant who will work in Brussels, under the supervision of the CIVIS Communication Officer and alongside another CIVIS Communications Assistant.
This is a small, polyvalent team where all members flexibly take on tasks across a variety of comms workstreams as required. We are especially keen to reinforce our capacity in graphic design and audio-visual media production.
Working for the whole CIVIS Alliance, we largely produce content in English, but the ULB context means we often interact in French. Occasional travel is required.
This is a fixed-term position, but there is a very high chance that the funding will be renewed and the contract can be extended.
Missions
Produce graphic and audio-visual content for print, social media and web using the Adobe Creative Cloud and other tools: document layouts, editing short videos, producing infographics, etc.
Support the Communications Team's general work as required: publishing on web and social media, community management, copywriting, etc.
Support the CIVIS Communications Officer and the co-leaders of the Communications and Sustainability Work Package in the implementation of the communication strategy and other administrative tasks.
Profile
Hold a Bachelor's degree in graphic design, media production, communications, foreign languages, humanities, or other fields relevant for the job.
Some professional experience in a similar position would be an asset, especially in a European or international context.
Applicants with a higher level of qualification (eg. Master's) cannot be considered.
Persons holding a diploma not issued by the Fédération Wallonie Bruxelles must obtain an equivalence from the FWB (http://www.equivalences.cfwb.be/index.php?id=486)
Skills and knowledge required
Excellent verbal and written communication skills in English (C1 level minimum).
Proficiency in content production using design software such as the Adobe Creative Cloud (especially Illustrator, InDesign, and Premiere) is a major advantage.
Experience with other communications management tools (esp. Hootsuite, Google Analytics, Social Media advertising) is an asset.
Experience in website management.
Understanding of integrated and 360 communications strategies.
Good command of French (B2 level minimum).
Knowledge of one or more other languages used within the Alliance (French, German, Greek, Italian, Romanian, Spanish, Swedish) is an asset.
Soft skills related to the position
Flexibility and ability to adapt to a variety of contexts and workstreams.
Ability to integrate into an international team with a lot of remote collaboration.
Sense of rigor (including with deadlines) and excellent organisation skills.
Autonomy and initiative.
Sense of diplomacy, good humour, and cultural sensitivity.
Personal commitment and professional demeanour.
Equal opportunities policy
ULB's personnel policy is based on diversity and equal opportunities.
We recruit candidates on the basis of their skills, regardless of their age, gender, sexual orientation, origin, nationality, beliefs, disability, etc.
Would you like to be reasonably accommodated in the selection process because of a disability, disorder or illness? When you fill in the online application form, you can tick a box that will be brought to our attention when analysing the applications. Please be assured of the confidentiality of this information.
An analysis of the skills and duties required for any position is available on request.